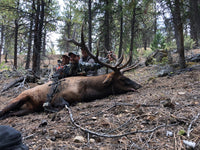 Why book a hunt with AOA Outfitters?
Our AOA Outfitters team grew up ranching and hunting in Central and Eastern Oregon.  There aren't many places in this state that we haven't dropped a waypoint or two!  Oregon offers a diverse variety of small and big game opportunities, including; Mule Deer, Whitetail, Elk, Black Bear, Antelope, Upland Birds, Waterfowl, Bighorn Sheep, and Rocky Mountain Goat. 
Oregon offers excellent diversity in terrain and hunting opportunities that allow us to create a customized experience for our hunters.  Whether you're looking for a public lands backcountry elk hunt on horseback or a chukar hunt on private Eastern Oregon ranch lands, AOA Outfitters can make it happen!  We have outfitted and guided many successful hunters over the years and look forward to providing future clients with a truly unforgettable experience!
Zach is a great guide! I was brand new to bow hunting when I first hunted with Zach. We still laugh about how excited I got the first time an elk bugled close to us. Zach is extremely patient and professional. He has always put me on animals. Sometimes I haven't harvested an animal, but that's on me, not Zach. I have hunted for both deer and elk with a bow and a rifle. We have also chukar hunted together. I have hunted almost every year with Zach for the past 10 years or so. I would highly recommend using Zach to guide you on your next hunt!
I have bow hunted elk with Zach for 6 years. I have come home with an elk every year. Zach is not only a good guide, but fun to harass as he cleans and skins my elk. All joking aside, he is not just a guide but has become a great friend!
Hunting with Zach Bruce has been an amazing opportunity for me, family, and friends to experience. I have hunted with Zach for the past 12 years. His knowledge of elk behavior and methods of stalking the animals are unbelievable.  You are treated like family with him and you will not be just another client.  It will be your mistake to not book a hunt with Zach. I have had 12 successful seasons with him and have booked another hunt this year. 
Registered Oregon Outfitter Guide | Guide No: 1961